Practice Typing Ergonomics
Is Beneficial
Do you practice typing ergonomics in the workplace? Why I am asking this question? It is to help you to examine the reasons why you are making so many errors whilst typing. You  may also be experiencing health problems with your back, wrist, eyes or feet.
It may be that you are not properly seated with the right posture to focus fully on your typing or you do not have the right office furniture.
Your Career

You also want to enjoy what you are doing especially if this is your career for the rest of your working life. Simple procedures or advice if followed persistently can make your work and environment a happy, healthy and comfortable for you the typist or secretary.
We can never go wrong if we follow the safety rules in the office. It can make us want to do the work and do it to the best of our ability because of improved health at the workplace. We also feel good to see what we have accomplished in the workplace.
Self Searching Questions
Answering the self searching questions below can help you to evaluate your work habits and you will be able to make the needed adjustments as you practice typing ergonomics.
Are my finger tips solely resting on my Home Keys before I start typing?

Are both hands especially my wrists resting on my keyboard?

When was the last time I got up from typing, took a walk for a few minutes or carried out other office duties and then got back into my typing chair?

What about my chair is it too low or too high or does it have a suitable back rest?

Is my desk wide enough to hold my computer, a copy holder and other items I need?

Is my monitor

 screen aligned with my view of it or do I have to bow or raise my head high to view my monitor screen whilst typing?
Practice Typing Ergonomics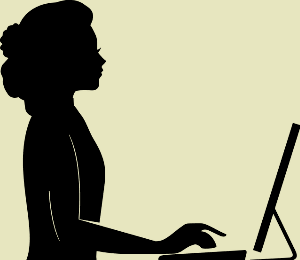 Never underestimate the value of your health. Taking your body for granted eventually can cost you a large sum and also regrets. So think as you read the above health guidelines.You can even talk to your boss concerning the replacement of office furniture.
Learn to type properly using the right fingers and sitting with the perfect healthy posture.

All these and more are found on the many pages of this website. Click the links below to make the needed changes.